About Our Frames
Handcrafted in the USA, our high-quality frames offer unrivaled value. Frames are already custom-sized for your school or organization, allowing you to quickly and easily insert your diploma or certificate. There's no need to send us your valuable document!
Belmont

Greystone

Sienna

Legacy

Grandeur

Lansdowne

Bamboo

Millennium

Windsor

Jefferson

Mahogany Gold

Olympia

Prestige

Regal

Heritage

Metro

Coronado

Elite

Classic

Athens

Spirit

Academic

Scholastic
Custom Embossing
Conservation-Quality Preservation Matboards
Our Conservation-Quality Preservation matboard protects your valuable document from the damaging effects of pollutant and contaminants.
Glass Options
Standard - sturdy, scratch-resistant 2.5mm glass exceeds industry standards.
Non-Glare - enhances the beauty of framed pieces with a matte-like finish that minimizes unwanted glare.
Conservation - effectively blocks up to 99% of UV light rays to help protect from fading and deterioration.
Conservation Non-Glare - the matte-like finish minimizes unwanted glare while also effectively blocking up to 99% of UV light rays to help protect from fading and deterioration.
Brilliant Medallions
Brilliant, proof-struck, custom-minted medallions are available for many schools and organizations. Our medallions feature impeccably rendered school or organization seals.
Gold - Add a prestigious symbol of achievement to your frame with our classic gold medallions.
Silver - Reflecting flawless craftsmanship and beauty, our silver medallions add the perfect touch of timeless brilliance.
Enameled- Gold or silver medallions feature beautifully detailed enameled accents.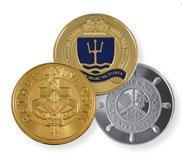 Adjustable Hanging System
Our unique adjustable hanging system allows for fast, easy adjustments. This innovative system saves time and takes the frustration out of hanging and displaying your achievement frame.